PC cases just as the above examples, follow similar trends, where everything was flashy, so were PC cases, aftermarket GPU and anything that had the word gaming before it.
Computer Cases were colored, half-transparent with blinking led lights, and differed a lot in shapes , aluminum style and sizes to look different for attention seeking. Modern chassis are more subtle in their boldness and flashiness.
They are minimalized by default, especially since RGB took over everything! Having a minimalistic pc case would only require you to choose between the base color, which is either black or white mostly.
NZXT, Fractal Design, and Lian Li offer a good range of cases but Corsair 5000D is a good balance between budget, clearance, minimalistic aesthetics and airflow. The best minimalistic case depends on aesthetic preference, needs such as GPU clearance, liquid cooling requirements, and budget.
Though other colors are available too, they defy the whole point of being minimalistic in the first place. A minimal case, just like the window analogy above, makes it cleaner and simpler for your setup to pop out.
Neat cable management and RGB setup are your aesthetic within the case, and the rest depends on how you decorate your room and other peripherals.
Modern minimalistic cases make cable management easier and are more practical for good airflow and liquid cooling setups because they are designed to keep computer case ventilation in mind.
You just set up your case once, and RGB is how you control your aesthetics over time.
Minimalism, minimalism everywhere!
Minimalism is the word of the decade! Either it's about your business logo that lost its bevels, embosses, and shadowy features for a cleanliness and simpler look.
The webpages you visit are more standardized and have lost their text art, sounds, and flashy marquee features, or the HUD of your favorite modern video game, that minimized their maps, texts, and other pieces of information on the screen if not skip altogether to focus on the immersion and aesthetic of the game.
In all cases, the whole point of minimalism is functionality and leaving enough room for aesthetics without being overwhelmed by unnecessary elements. You can't embrace the sunlight if your window is full of layers, colors, and fences.
A large but cleaner window will do wonders for your room letting in sunlight for practical uses and making it cleaner and more aesthetic friendly.
Top Minimalist Computer Cases For Aesthetic Looking Setup
Now that we know why minimalism is a big deal in this day and age and why would you want a minimalistic case? This guide will jump right into those minimalistic options for your aesthetic setup!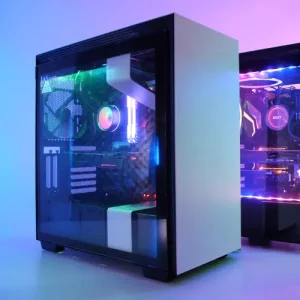 1- NZXT H710i
NZXT H710i is the best choice for you if you are looking for simple RGB effects, its cable bar is aesthetically pleasing and will surely grab your attention. You can pair it up with NZXT white motherboard and all-white hardware with their trademark purple RGB lights and that's a sight to behold.
Literally dubbed "Minimalist Gaming Case" by the NZXT website. It is the best-looking computer case of NZXT if not the best computer gaming case. 
That sleek cable shroud really does the trick and is attention-grabbing with its tempered glass, side panel.
It is a spacious mid-tower PC Case that leaves a great deal of room for water-cooling if you are into those aesthetics and reducing the overall temperature.
If you have a really quiet room, the case has enough room to use sound dampeners such as acoustic foam to soundproof it. This computer case only requires one screw to fasten the side panel, unscrew it once and the whole panel is out! 
The mounts for SSDs can be placed anywhere along the shroud, so you can display your SSD from any orientation or placement you like.
The case also includes a built-in mounting bracket for your Graphics Card, so as long as you have the cable to mount it, you can without the hassle of buying a kit.
It includes 2 RGB strips along with a smart controller or aura sync support. Their patented cable routing kit makes it pretty easier and more intuitive for cable management. Comes with 4 fans included.
Features 2 RGB lighting channels and 3 fan channels to control fan speed rpm if the fans are voltage or PWM regulated. The front panel and power supply intake filters are removable.
It can support your E-ATX, ATX, MicroATX, and Mini-ITX motherboards. GPU clearance is up to 413mm. It also includes a USB 3.1 Gen 2-compatible USB C connector.
The top-mounted bracket is removable and reversible and designed for radiators up to 360mm if you stick to liquid cooling. This PC minimal case comes in White Matte, Black Matte, and Black Matte with Red accents. To sum it up
Key Features
Tempered glass side panel
Mid-Tower form factor
E-ATX, ATX, MicroATX, and mini-ITX motherboard support
GPU clearance up to 413mm
Spacious and good for Water-Cooling
Easy and intuitive cable management
Only one screw for the side panel
Easy customization with removable brackets and SSD mounts
Built-in vertical GPU Mount bracket
USB 3.1 Gen 2-compatible USB-C connector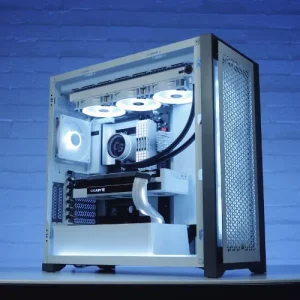 2- Corsair 5000D Airflow
Corsair 5000D is not only a good airflow computer case but it is budget friendly compared to its competitors. If the airflow is your priority with a good-looking spacious case with a lot of clearance, then Corsair 5000D is your choice.
Corsair 5000D "Airflow" for its namesake really focuses on airflow. Its unique but simple design isn't only good to look at but is also very practical.
Ventilation is the core for this case with mesh on the front, top, side, and back that greatly reduces heat build-up.
It is a mid-tower ATX minimalistic PC gaming case that instead of using a solid front panel like most minimalist desktop cases, uses a mesh instead that not only contributes to its aesthetic but makes it easier for air to flow through it.
The case is very spacious and good for liquid cooling because it features 360mm mounts for radiators and/or fans on the front, side, and top. Supports Mini-ITX | MicroATX | ATX | E-ATX motherboards.
GPU clearance is up to 400mm. The non-Airflow version features a solid steel front panel instead that lacks ventilation and is more soundproofing but builds up more heat.
You can further better your soundproofing with acoustic foam if you want to go down that route.
For aesthetics and airflow, we suggest you go with the Airflow version. It comes with high-quality dust filters for the top, bottom, and front panels and for PSU. The front panel filter is more reinforced than its predecessors and can withstand bends and wear and is generally more stable maintaining structure rigidity that greatly reduces any vibration build-up.
The side dust filter is reinforced and prevents you from the hassle of it moving when you are building.
Corsair has been very mindful of aesthetics and mindful of attention to detail in this case as the top dust filter's magnets are actually painted white to match the case.
They include a more compact version of the PSU shroud that is somewhat aerodynamic and leaves more space if your radiator and fans need extra space to fit on the front panel. This shroud regardless of radiator or not, provides further ventilation and reduces temperature. On the other hand, if you are not mounting a radiator, from the accessories, you can get a PSU shroud that covers the area more and give you a cleaner look but introduce a little heat.
The hard drive cage along with trays can be mounted on around 3 different locations depending on your cooling setup and cable management. The computer case also features 2 vertical slots if you are to mount your GPU vertically, you will require the cable though. 
Though the cable management system along with its plethora of customizable options such as PSU shroud, SSD mounts, and cable shroud can be removed or changed because it includes rubber grommets as a backup.
It adds a little difficulty when building but is totally worth the look when you are done. Few things to take caution about while building. The magnetic door on the cable side of the case may not close if your cable management takes extra space.
Also, cable management with a bigger motherboard will be harder making the angles sharper, so you might need to remove the cable shroud and/or use their 90-degree bent adapter from the accessories. To sum it up
Key Features
Mid-Tower form factor
Tempered glass side panel
ITX | MicroATX | ATX | E-ATX motherboards compatible
GPU clearance up to 400mm
Spacious and good for liquid cooling
Customizable with changing parts such as hard drive cage, shrouds
Great airflow design with great ventilation
Reinforced dust filters without compromising aesthetics
Vertical GPU slots
USB 3.1 Type-C Port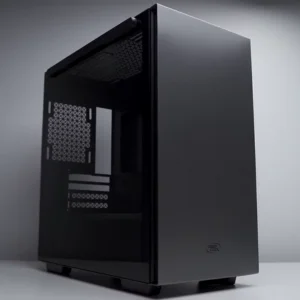 3- Deepcool Macube 110
Deepcool Macube 110 is the choice for you if you are starting out your first build and want to cut your budget on the case. For its price point, it offers a lot more, and that is why it has made it in the list among the likes of one of the best cases.
Often dubbed as "NZXT killer", Macube 110 from the underdog Deepcool might actually trick you in the first place that it is one of NZXT's premium cases. It is a minimalist matx case that is so smooth on your eyes with its sleek and simple front panel. Despite its underdog status, this case cannot be ignored and definitely catches the attention of enthusiasts.
It supports motherboards up to mATX and mini-ITX. The GPU clearance is 330mm. It can support up to six 120mm fans or four 140mm fans, and radiators up to 280mm on top and/or front to kill the heat build-up and keep up decent static pressure. It features a simple and cool mechanism that uses a magnetic side panel.
To access it, you don't even need to unscrew anything! Just slide and pull out the front panel! It includes a dust filter on the top mesh. SSD holders are push pins based.
Features removable drive cage and GPU holder that can be adjusted by a screw. Such features for this inexpensive case really make it a good NZXT alternative if you are on a budget.
Key Features
Micro-ATX form factor
Tempered glass
Supports up to mATX and mini-ATX motherboards
Includes 120mm fan
Removable drive cage
Magnetic Side Panel
Adjustable GPU holder
Push pin SSD holder
GPU Clearance 320mm
Mesh top dust filter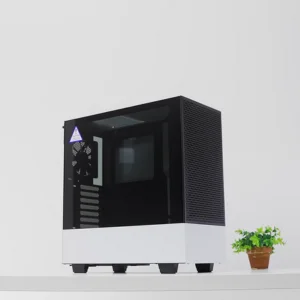 4- NZXT H510 Flow – CA-H52FB-01
NZXT H510 Flow is the case for you if you prefer a mesh front panel for good airflow but don't want to sacrifice the NZXT look. It is the best of both worlds where you get the signature NZXT case, their attention to detail, and good airflow for better ventilation and thus lower temperature.
After a lot of memes and NZXT's general direction towards aesthetics only and less priority towards airflow. This is finally NZXT's take on airflow and it delivers. It follows the footprints of the H510 Elite and from the outside, it does look similar except for its front panel which is engineered for more ventilation while maintaining structure rigidity and killing any extra heat.
The similarity starts with it being a mid-tower minimalist atx case and mostly ends with having a mesh front panel for airflow and lacking vertical GPU support. It supports Mini-ITX, MicroATX, and ATX motherboards.
Without the fans on the front panel, it supports GPU up to 381mm but with fans and/or a radiator it can support up to 321mm. Its mesh front panel really makes it cooler than its predecessors while maintaining the aesthetics.
The top panel of this computer case is also perforated for cooling but it only features up to 140mm, not great for more than 1 fan or a bigger radiator. The cable bar and tinted tempered glass add to the aesthetics. All intakes have removable air filters. 
The radiator bracket is removable and can support up to 280mm radiators. Its cable bar provides more clearance than its predecessors and thus it is cleaner and more convenient for cable management.
To add to that convenience, it comes up with a quality cable routing kit and the computer case already has pre-installed channels to guide, keeping all the attention away from cables, making it neat and easy. The front panel can be removed and cleaned very easily. Features removable Hard drive cage. 
CA-H52FB-01 front panel connectors not only help with cable management but also makes it convenient to just plug it into the motherboard instead of organizing and attaching each connector individually.
Key Features
Tinted tempered glass
Mid Tower form factor
Supports Mini-ITX, MicroATX, and ATX motherboards.
GPU clearance from 321mm to 381mm
Comes with cable routing kit and has preinstalled channels for cable management
Removable air filter on all mesh intakes
280mm radiator bracket is removable
Removable drive cage
Good clearance for cable management
Front panel connectors are bundled for convenience
USB 3.2 Gen 2 Type-C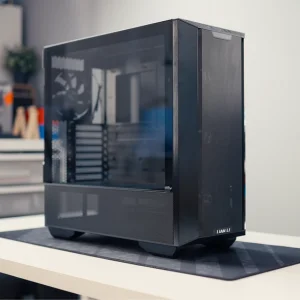 5- Lian Li LanCool III
Lian Li LanCool III is your choice if you want to show off cool gimmicks and wonders of mechanics. Pulling a lever like a car door to open the magnetic strips side panel. Closing the magnetic covers above the cables like you would in a circuit breaker or installing SSD without needing any tools. These gimmicks aside, the case is good-looking and has great airflow. Unique enough to gain the attention of many and practical enough to be ventilated.
Lian Li LanCool III, though minimalistic in its look, is not only a good airflow computer case but is also mechanically very sophisticated and comes with cool features or "gimmicks" to some.
Its magnetic doors are made up of aluminum.
It is a mid-tower case that supports ATX, E-ATX, micro-ATX, and mini-ATX motherboards. Lian Li focuses on ventilation and mechanical features. GPU clearance is up to 435mm and radiator clearance on top and front is both up to 360mm.
It can support up to 10 max number of fans! It features mesh on the side panel too, to kill the heat. As for the fancy features, side panels are magnetic and to open them, you just need to pull the side of the front panel that acts as a lever on each side and it instantly opens up the panel like a fancy car door. If that doesn't get attention from your family and friends, what will?
Some Unique transformer like computer cases also looks better for more aggressive setups.
The cable management side of the panel has multiple magnetic panels or doors to keep it clean. The SSD mounts are toolless because of their spring leaf mechanism that secures the drive but if you still feel unsure, there is a screw to lock the mechanism from retracting.
The drive can be mounted on 12 different locations depending on clearance and your cable management. The cable management bar can be adjusted and secured with a screw depending on your GPU and motherboard.
The front radiator mount is totally removable and reversible. The front panel IO can be dismounted and mounted on either bottom or top of the case as desired.
If you go for the RGB version, the four PWM fans they come up with are RGB and the lighting modes of RGB can be controlled by a button featured on IO Panel.
Key Features
Tempered glass
Aluminum side panel doors
Mid-Tower form factor
Supports ATX, E-ATX, micro-ATX, and mini-ATX motherboards
Comes with 4xPWM ARGB/RGB fans
Supports 420mm or 3x360mm radiators and max 10 fans
12 storage drive mounting locations
All panels are magnetic and the side panels can be opened by a fancy hidden lever in case
Adjustable cable management bar
Toolless SSD mounting mechanism
Front radiator mount is removable and reversible
The IO can be mounted on top or bottom
USB Type C connector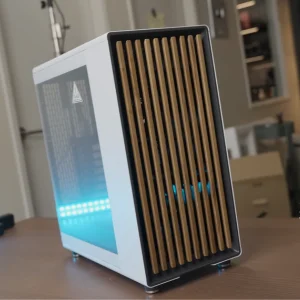 6- Fractal Design North
Fractal Design North is your choice if you are keen on attention to detail and are setting up your computer in your living room or just a room with a good décor that goes well with organized furniture from Ikea for example. Set up a good wooden table, maybe a computer desk lamp and a good vase on the side. This case is screaming minimalism and appeals to anyone with a good eye for aesthetics.
This one is the most unique case in the list when it comes to aesthetics. North, though minimalistic by its look is an award-winning micro-ATX case that actually features wood as a décor on the front panel.
The white version of the case comes with oakwood and the black with walnut. The case further comes with 2 options for side panels, one is transparent tempered glass and the other one is a ventilated mesh that goes with the color of the case you went with.
If you have decent furniture, you may want to ditch the RGB components and go for the mesh version of the case that makes it look like a piece of modern furniture.
The case is compatible with ATX, mATX, and ITX motherboards. GPU clearance is up to 355mm without a radiator and 300mm compensating for a 360mm radiator.
The top supports up to 240mm fans and the radiator and front panel supports up to 360mm. You can install up to a max of 8 fans. It comes up with a mountable bracket for fans if you have enough clearance from GPU or CPU cooler.
This bracket helps set up fans for side panels and works best with the mesh version of your side panel for further reducing the temperature.
The hard drive mount can be placed up to 3 locations but the space for cable management gets pretty inconvenient. It features a dust filter on the front panel and PSU exhaust.
Key Features
Award-winning aesthetic design
Uses actual wood for aesthetic
Choice of tempered glass or mesh side panel
Micro-ATX form factor
ATX / mATX / ITX motherboard support
300-355mm GPU clearance
Comes with two 140mm fans
240mm top and 360mm front radiator clearance
Max 8 fans
Features a mountable fan bracket for the side panel
USB C connector
Minimalistic Cases Noise Benchmark
Noise depending on where your computer is and how much background noise you have, can really be nothing to be a constant annoyance. Every spinning thing makes noises and that is a fact. PCs are full of spinning things, mostly any fan from the CPU fan, GPU fans to case fans, and if you have hard drives.
Other factors can reduce or increase the noise in your case generally depending on its build-up quality and aerodynamics, such as if a case has obstruction right where the fan is, the air is gonna bend at a sharp angle to flow and cause a lot of noise.
A good case in such instance will keep a distance, use less obstruction or provide a smoother angle by using a more aerodynamic style.
With all that in mind, we have conducted a benchmark of all the computer builds, and the values are shown in the table below.
| Pc Case Model | Noise Level In DB |
| --- | --- |
| NZXT H710i | 41.3 dBA |
| Corsair 5000D Airflow | 37 dBA |
| Deepcool Macube 110 | 35 dBA |
| NZXT H510 Flow – CA-H52FB-01 | 40.4 dBA |
| Lian Li LanCool III | 46.9 dBA |
| Fractal Design North | 49.9 dBA |
Conclusion
Trends in aesthetics have changed generally and they did so in computer gaming too. In the past, computer gaming cases were all about how big and heavy they were, how dark and alienated they look.
A good computer case in the 2000s used to look so alienated, like straight out of a Sci-Fi movie to gain that unique attention without any regard for minimalism. With advancements in technology, newer hardware tends to be less power-consuming and better thermally and there are better and more efficient thermal solutions available now such as AIO.
Modern minimalist computer case are more compact, structurally rigid, convenient, and just better on temperature, and acoustics. This is why a compact minimalistic design is a way to go. Another thing to keep in mind is the airflow version of cases if you require better airflow for air cooling.
The cases mentioned in this guide though all have something in common, each has a unique offering and I'll list them and mention the best pick in the end if you are still indecisive.
Should you choose the RGB option for your aesthetic PC setup?
RGB, though a gimmick to some and essential for most is actually a cherry on top of your minimalistic build. It gives you a range of options to customize. For a minimalistic view, set your RGB to a single color.
Is a bright-colored PC case a better option for a minimalist setup?
It is up to your preference but to keep things minimal, I suggest lighter colors such as white cases or pastel colors with simpler RGB effects but options like a black case with Red. Green or Blue RGB can also work with a minimalistic view.
Does the PC case affect the look of your setup?
If your PC case isn't hidden, it is the most eye-catching part of your setup and yes, it affects the look of your overall setup and it is why cases are most important to keep up with the looks. Good cases are all about what to show and what not to.
Please follow and like us: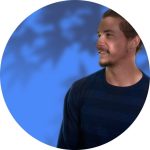 I am a PC enthusiast with a passion for gaming and all things tech. With years of experience building and customizing PCs, I have become a go-to source for PC case reviews and gaming insights. I am dedicated to researching and writing about the latest trends and developments in the PC gaming industry, with a particular focus on PC cases. From budget-friendly options to high-end builds, I have the expertise to guide you through the process of selecting the perfect case for your needs. Whether you're a beginner or a seasoned pro, my in-depth reviews and practical tips will help you make an informed decision.